We had so much fun going through all the books and materials on box day. I told my girls we could open the box as soon as they were ready for bed. That was a great motivation. Once we opened the box they just wanted to stay up and look through every book!
Opening the Box
This is the first year I will be homeshooling my three little girls. I did a lot of research looking for the optimal curriculm and found Sonlight was the curriculm of choice (Core B+C). Ordering and receiving the materails now will give me all summer to get acquated with the material. I can't wait until September to start learning with my girls. Thank you Sonlight!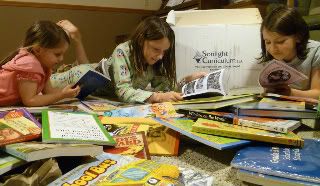 Looking Through the New Books
Boni K.
Moscow, ID